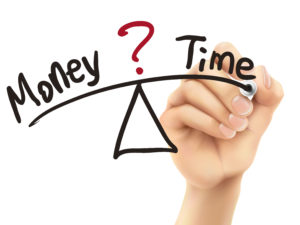 Valuing time over money can lead to greater happiness according to recent research published by the Society for Personality and Social Psychology.
The study which was carried out by the University of British Columbia, looked at more than 4600 participants and showed that just over half of them prioritised time over money.  Gender or income level didn't affect whether people were more likely to value time over money but perhaps not surprisingly, age did have an impact, with more older than younger people seeing time as more important.
The assessment was based on which participants placed more value on in daily interactions and in major life events and asked questions like those that follow:
Would you prefer a more expensive apartment with a shorter commute or a less expensive apartment with a long commute?
Would you choose a position earning $50,000 and a 35 – 40 hour week or one earning $75,000 and a 60 – 65 hour week?
Would you choose a flight that cost $200 more and goes direct or one that costs $200 less and has a lay-over?
Would you choose the parking lot next door to the restaurant that costs $8 or the one 10 minutes away that costs $5?
You've been entered in to a lottery for taking part in this survey, which is your prize preference "a $50 cash prize or a $120 voucher for a time-saving service (housecleaning).
The research showed that those that put more value on time rather than the pursuit of money tended to be happier.    The bigger pay cheque might be very appealing but when it comes to happiness free time trumps money!